Redfin did a study on selling during different times of the year. Their findings showed that, "Homes listed from December 31st through March 21st had a 9% greater chance of selling within 6 months than homes put on the market between March 22nd and June 21st."
And "Between December 31st and March 21st, those homes had a 10% greater chance of selling at or near their asking price versus listings between June 22 and September 20th."
The article included from Inman News (below) shows how buying NOW is best way to save money. December is here. If you are buying you have 31 days to close on a home and get the tax breaks on 2018 home purchase, you will get a lower interest rate because the Federal Reserve will be increasing rates in December and you will be getting the home at the lowest price possible.
The most recent meeting of the Federal Open Market Committee (aka "The Fed") ended September 26. As everyone expected, the group hiked its benchmark federal funds rate. While the action didn't directly affect mortgage rates, it did lend to an overall environment of rising rates, which certainly doesn't help the mortgage rate shopper.
WHAT A RATE INCREASE DOES TO PURCHASE POWER
If you are selling now is the time to get the home locked in a listing agreement with a REALTOR® and start the process of selling. Buyers are in the market now! Inventory is still low for good homes and there is less competition right now vs the coming months.
If you have any questions please reach out. Wacasey group is here to help you with the "WAY" to buy, to sell or invest in Real Estate.
Want a good deal on a home? Buy in December
Dec. 26 is the day to get the best discount on homes, according to a new study from Attom Data Solutions
The day after Christmas is the best day to buy a home if you're looking for a discount, according to a new study from Attom Data Solutions. Overall December is the best month to buy a home if you're looking for a deal, the study found.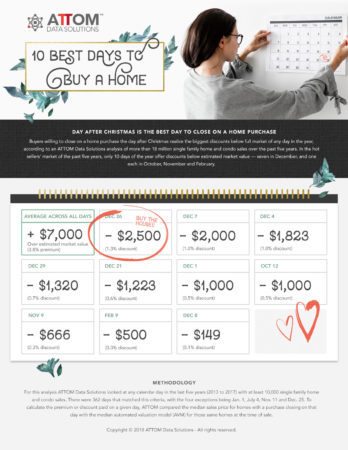 "People closing on a home purchase Dec. 26 were submitting offers around Thanksgiving and starting their home search around Halloween — likely not a common path to home purchase for most buyers and exactly why it's the best time to buy," Daren Blomquist, Attom's senior vice president said.
"Buyers and investors willing to start their home search right about when stores are setting up Christmas decorations will face less competition and likely be dealing with more motivated sellers, giving them the upper hand in price negotiations," he added.
Only 10 days of the year actually offer discounts below estimated market value — and no months do overall — according to the analysis. Seven of the days are in December, with one each in October, November and February.
Attom's data, which covers the last five years of sales, said the lack of market discounts can be attributed to the hot seller's market of the past few years.
On Dec. 26, buyers, on average, can save an estimated $2,500 by purchasing their home the day after Christmas. On Dec. 7, they can save $2,000.
By the same metric, the end of May is the worst time to buy a home. Buyers can expect to pay, according to the past five years of data, more than 9 percent over the estimated value on May 28, 29 and 30.
"The prevalence of December in the best days to buy is really all about the holidays," Blomquist said. "Very few buyers are looking for homes to buy around the holidays, which means less competition for the few contrarians out there who are buying."
"The days in October, November and February, are also likely related to down times when it comes to buyers making offers," Blomquist added. "Keep in mind the dates we list here are going to be roughly one month after an offer is accepted."
Blomquist explained that on Oct. 12 — where buyers can get, on average, a $1,000 discount — those offers were probably accepted over Labor Day. And on February 12 — when buyers can get a $500 — discount, the offers were likely accepted around the New Year.
Overall, buyers can expect to pay just 0.5 percent over the estimated value, on average, in the month of December. Prices are the highest above estimated value in June, where buyers can expect to pay 7.3 percent above the estimated value.
The best month to buy a home changes depending on the region too, according to the data. But Attom's study found that cold-weather seasons — or just fall and winter in some places — tended to offer the best discounts. Every state, other than Hawaii, had the best discounts in either October, November, December, January or February.